Chili Recipes for a Crowd

Here's what you have been asking for...large quantity chili recipes. So good, and just in time for chilly days! Perfect for a tailgate party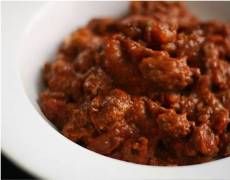 If you don't have one large stock pot or Dutch oven, use 2-3 large pots or skillets and divide ingredients equally

To double these chili recipes: Almost double the meat (about 1/2 pound less then double); don't quite double the spices and herbs, add a little at a time and taste as you go; same with veggies (about 1 onion or pepper less then double)

Chili can be made up to 3 days in advance and is even better the next day. Freezes beautifully

Tips on cooking with fresh chili peppers

Easy Fixin's
Serve these simple accompaniments along side your sumptuous chili
Sour cream
Green salsa
Shredded Cheddar, Swiss, American or Blue cheese
Fresh or pickled jalapeños Avocado slices
Lime wedges


Tomato wedges
Shredded lettuce sprinkled with lime juice
Chopped red onion
Slivered garlic
Sliced green onion
Cilantro leaves
Make a Meal
Chili can standalone but for a change of pace, serve over spaghetti, a hot baked potato or brown rice. To make a party of it also serve:


Chili Recipes______________
Drunken Chili Recipe for a Crowd
Serves 20
Substitute lean chuck if you don't like or can't find venison. For the tequila, substitute dry sherry, red wine or unsweetened apple juice if desired

5 teaspoon peanut or corn oil
5 lbs. beef brisket, coarse ground
5 lbs. venison, fat trimmed and coarsely ground.
2 lbs. pork, lean & coarsely ground
3 medium onions, chopped coarsely
6 garlic cloves, minced
6 green chili peppers, chopped coarsely. Or to taste. Substitute 1 large sweet green pepper if desired
24-ozs. beer. Any type
3-ozs. tequila.
3 cups stewed tomatoes (about 2 15-oz cans), chopped coarsely
3 cups tomato sauce
1 Teaspoon cider vinegar
5 teaspoons ground cumin , or to taste
1 teaspoon allspice or ground cloves
5 teaspoons red pepper flakes, or to taste.
2 teaspoons Tabasco sauce
3/4 cup tomato paste
3 teaspoons honey
Salt and black pepper to taste
Heat oil in a large stock pot or Dutch oven. Place meat, onions, garlic and peppers to the pot and sauté until the meat is browned. Drain excess fat. After draining add some salt and pepper to season the meat and vegetables
Add the beer and tequila, bring to a boil. Add the stewed tomatoes, tomato sauce, vinegar, 3 teaspoons of the cumin, allspice and the red pepper flakes. Simmer for 1 hour.
Add 1 teaspoon of the cumin, the hot sauce, tomato paste, and the honey. Taste and add salt and pepper as needed. Simmer for 1 more hour then add the remaining cumin. Turn heat up to med-high and cook for 10 minutes, stirring frequently. Serve hot .
Champs Chili for Fifty
Serves 50

This one serves the whole crowd.  Although chili purists would disagree, you may substitute 12 pounds of lean ground beef, ground pork, hot sausage or pork sausage (or a mixture) as a substitute for the lean chuck
1/2 cup canola oil
5 medium onions, diced
3 medium green peppers, seeded and diced
3 large stalks celery, diced
2 small Jalapeño peppers or to taste, seeded and minced
15 lbs. lean chuck, coarsely ground.
4 cloves garlic, chopped
7-oz can diced green chiles mm
2 28-oz cans stewed tomatoes
2 15-oz. cans tomato sauce
2 6-oz. tomato paste
1/2 cup chili powder, more or less to taste
3½ tablespoons cumin
4 teaspoons dried oregano
Tabasco sauce to taste
12 oz. beer, dark preferred
5 bay leaves
Water to cover
Coarsely ground black and Kosher salt to taste
OPTIONAL: 6 cans black and or pinto beans, rinsed and drained. Add when adding the tomatoes and other ingredients.
In a large stock pot or Dutch oven, heat oil and sauté onions, peppers, celery and jalapeños until soft. Add the meat and cook until brown. Carefully drain excess fat from meat and veggies using a wad of paper towels or a colander.
Add the remaining ingredients, mix well. Add water just to cover the top of the mixture. Cook about 3 hours on low heat, stirring often.



Meat Lovers Chile Recipe
Serves 20
2 tablespoon paprika
1 tablespoon oregano
9 tablespoons chili powder
4 tablespoons cumin
4 tablespoons beef bouillon
24-ozs. beer
2 cups water
4 lbs. ground chuck
2 lbs. ground pork
1 lbs. beef chuck; cut in 1/4" cube
2 large onions; finely chopped
10 garlic cloves; finely chopped
1 tablespoon oil
1 tablespoon sugar
1 teaspoon coriander seed
8-oz can tomato sauce
1 teaspoon red hot sauce
1 tablespoon Masa harina flour (optional)
Coarsely ground black and Kosher salt to taste
In a large pot, add paprika, oregano, chili powder, cumin, beef bouillon, beer and 2 cups water. Let simmer. In a separate skillet, brown ground beef and pork in batches. Remove ground meat to drain on paper towels.
Brown beef cubes in remaining fat. Continue until all meat is cooked and drained; add the spice/beer mixture.
Wipe out skillet and heat oil. Saute chopped onion and garlic until soft. Add to meat-spice mixture and add water as needed.
Simmer 2 hours. Add sugar, coriander seed, hot sauce and tomato sauce. Simmer an additional 45 minutes.
If using, dissolve masa harina flour in warm water to form a paste. Add to chili. Add salt to taste. Simmer for 30 minutes or until beef is tender


Just Good Chili
Serves 16
Oil
3 medium onions, finely chopped
2 medium green peppers, finely chopped
3 stalks celery, finely chopped
8 pounds coarsely ground beef
1 6-oz can tomato paste
2 15-oz. cans stewed tomatoes
2 6-oz. cans tomato sauce
3 cloves garlic, finely chopped
1/4 cup chili powder, more or less to taste
1 can (7oz) chile salsa OR slightly less then a cup of other salsa
1 medium jalapeño chili, minced, more or less to taste
Coarsely ground black and Kosher salt to taste
Thinly cover bottom of heavy 5-8 quart Dutch oven or stock pot with oil. Saute onions, green peppers and celery until soft and beginning to brown.
Add meat and cook 10 min or until brown. Stir in tomato paste, stewed tomatoes and tomato sauce.
Add chopped garlic, chili powder, salsa and jalapeno. Cook 30 mins, season to taste with salt and pepper, then simmer 2 1/2 hours. Stir every 10-15 min.
Two-Meat, Two Bean Chili
Serves 25
Many chili purist also believe that beans have no place in a real chili recipe. This chili breaks all the rules but no one will call the chili police once they taste it
Oil
5 pounds Ground round
2 pounds Hot or sweet Italian sausage, removed from casings
3 Large onions, chopped
2 Medium sweet red bell pepper, seeded and chopped
2 Medium green bell peppers, seeded and chopped
2 Fresh hot green chili pepper, seeded and minced
4 Garlic cloves, minced
1/3 cup Chili powder
1 tablespoon Salt
2 teaspoons Dried oregano
2 teaspoons Ground cumin
2 Bay leaves
3 cans (28-oz) whole tomatoes with juice
1/2 cup Yellow cornmeal
2 cans (16-oz) pink beans, drained
2 cans (16-oz) black beans, drained
Heat a thin coating of oil in a large Dutch oven. Cook the ground round, sausage, onions, red and green peppers, chili peppers, and garlic over medium-high heat, stirring often, until the meat is seared (but not browned), about 10 minutes. Pour off excess fat.
Add the chili powder, salt, oregano, cumin, and bay leaves and stir for 1 minute. Add the tomatoes with their puree, breaking up the tomatoes with a spoon. Bring to a simmer. Reduce the heat to low and cook, stirring often, until the liquid is reduced, about 1-1/2 hours.
In a small bowl, combine the cornmeal and 1/2 cup of water. Stir the cornmeal mixture and the pink and black beans into the chili. Cook, stirring occasionally,
until the chili is thickened, about 10 minutes.
Spicy Vegetarian Chili Recipe
Serves 6-8

2-3 tablespoons olive oil
1 large onion, coarsely chopped
4 large garlic cloves, chopped
3 celery stalks, coarsely chopped
3 large carrots, coarsely chopped
1/2 large red bell pepper, coarsely chopped
1/2 large green bell pepper, coarsely chopped
2 fresh jalapeno peppers, minced or to taste
4 tomatoes, coarsely chopped or 1-15.5 oz. can diced tomatoes, drained, reserve juice
1 tablespoon lemon juice, fresh
2½ tablespoons (or to taste) ground mild red chile pepper or chili powder
1 teaspoon cumin, ground
1 teaspoon paprika
1/2 teaspoon dried oregano
1 teaspoon dried basil
Salt and freshly ground black pepper to taste
1 15.5 oz. can black beans, drained and rinsed
1 15.5 oz. can pinto beans, drained and rinsed
1 cup water
1/2 cup fresh cilantro, chopped

Toppings: Sour cream, shredded cheddar cheese,  avocado slices, black olives, diced red onion

Heat the olive oil in a large heavy pot over medium heat. Add the onions and garlic and cook until the onions are translucent. Add the celery, carrots,
red, green and jalapeno peppers, tomatoes, lemon juice, and all the spices to the onions.  Cook, covered, until the vegetables are nearly tender,
about 10-15 minutes.  Taste and season lightly with salt and pepper

Add the drained beans and water (and reserved tomato juice if using) to the vegetables and stir well.  Simmer for 30 minutes over low heat. Chili may
be thick - add water as necessary and stir occasionally.  Taste and adjust seasonings.  Add chopped cilantro just before serving.
Serve alone or over rice, pasta or potatoes.