Cooking Tips
These simple cooking tips can make the difference between a so-so dish and one that is inspired. Let us explore some easy and healthy ways to boost the taste and flavors of your party food.

Learn how to use:
Butter and Oils
Fresh Chiles
Fresh Citrus Juice and Zest
Fresh Garlic
Wine and Other Spirits

From a culinary point of view, butter, oils and other fats add an essential deliciousness to foods. They add a completeness, a feeling of comfort and fullness. Don't overdo it! Just a little bit will produce the comforting "mouth feel" we all crave.
Too much fat may distract from the flavors of aromatic vegetables or delectable  herbs and spices.  When used in moderation oil and butter pose no threat to an overall healthy diet.  Extra virgin olive oils are not good for cooking at high temperatures.   The oil burns off and the flavor gets lost.  Save good oils for flavoring or use pure/light olive oil for panfrying.




Cooking Tips

To use the least amount of fat in a dish, cook the food in a small amount of water or low fat broth or stock.  Sautéed chicken breast, turkey cutlets and most vegetables work well this way. Add additional liquid as needed


When the water is almost evaporated and the food is close to the desired doneness, add just a bit of butter or oil. Continue to cook on low heat until the food is done

If you like the fabulous taste of caramelized food, turn up the heat and let the food sear until done, being careful not to burn


For cooked vegetables, meat, pasta or rice: drizzle extra virgin olive oil or add a dab of softened butter to the hot and steamy dish, mix gently


Using fresh herbs and good olive oil this dipping oil  recipe makes a super easy appetizer for a sit-down dinner party


Make at the table for fun and flair and use fresh herbs--the taste is so much better


---
Dipping Oil Recipe
In large flat plate add one tablespoon fresh herbs such as basil or Italian parsley.  Add 1-2 cloves minced garlic, 1 teaspoon freshly ground black pepper and 1/2 teaspoon salt.  Add a few drops of lemon juice and 1 tablespoon of shredded Parmesan cheese (optional). Mix well. Pour 1/2 to 3/4 cup good extra virgin olive oil into the herb mixture and blend gently. Serve with a warm soft bread.
---

A small amount of chile will give an exciting warmth and tingle to the tongue. It can open your taste buds and enliven your palate. Certain parts of the country enjoy a larger variety of chiles then others.
The most widely available chiles are jalapeño, serrano, long greens or Anaheim, habaneros and poblanos.

If you have never cooked with fresh chiles, start off with the jalapeño. Some jalapeño varieties are bred to be mild


Chiles can be used like other aromatic vegetables such as onions and garlic, and can be gently sautéed (sweated), roasted, grilled or chopped and used raw


The goodness of chile is much more than heat. Once you experience the fire, appreciate the many subtle flavors they provide. You will find fruity, earthy and smoky flavors, just to name a few


The only way to really tell the pungency of a chile is to taste it. The true heat of any pepper is in the seeds and veins. If you remove the seeds and veins, the heat level will be reduced. If you are new to this, use chiles in small increments until you find the right amount 


The only chile that is never mild is the scotch bonnet. Try it if you dare. It is guaranteed to blow all newbies away


For your next party menu try this easy green chile recipe to boost the flavor of hot corn, baked sweet or white potatoes, shrimp scampi and hot French bread.

---
Green Chile Butter Recipe
To one stick of softened butter add 1 tablespoon finely minced jalapeño and 1/2 tablespoon of finely chopped lime zest, 1/2 teaspoon lime juice, 2 tablespoons fresh chopped cilantro (or parsley) and one thinly sliced scallion. Add salt to taste. Mix well until thoroughly combined.
On a piece of plastic wrap, roll butter into a log and refrigerate at least one hour. Slice and add to hot vegetables, baked chicken breast and baked potatoes.  Can be made in advance. Use within 2 weeks for best flavor. Will last indefinitely in the freezer.
Stuffed Banana Chiles Recipe
Banana peppers have a slight kick to them. Stuffed with meat they are just the right size for a dinner buffet along with rigatoni and tomato sauce. Cool it all down with minted cucumber and onion salad.
---

Keep plenty of fresh lemons, limes and oranges on hand for their tangy juice and flavorful zest. 
The sparkling nip of citrus juice brings out flat or hidden flavors of most foods and provides a nice acidic boost to roasted or sauteed veggies.   Orange juice adds a tangy sweetness to pork and chicken and is marvelous on baked sweet potatoes. A good splash of lemon juice can help reduce the amount of salt used.
Cooking Tips
---
Slow-Roasted Lemon Chicken Recipe
Try this exceptionally mouthwatering dish. Perfect when you want to really wow your family and friends. It is a "set it and forget it meal". You will make this one over and over, I guarantee.
Herb and Orange Zest Marinade 
In a blender or food processor bowl place 1/3 cup fresh rosemary, oregano or thyme leaves (use a mixture if you wish), 3 cloves sliced garlic, 1 1/2 teaspoons chopped orange zest and 3/4 teaspoon salt. Process to a course paste. Remove to a small bowl and gradually blend in a scant 1/2 cup olive oil and 3 tablespoons fresh lemon juice and 3 tablespoons fresh orange juice. Makes about 1/2 cup of marinade enough for about 2 lbs. of food

---
An assertive aromatic vegetable and the quintessential seasoning in Cajun-Creole, Italian and Asian cooking.
I don't know of anyone who isn't drawn to the tantalizing smell of garlic sauteing in butter. 
The smaller you dice garlic the more oils are released and the more garlic flavor will be released. Make sure there is liquid or oil in the pan before adding


If you really like a pungent garlic flavor add minced or sliced cloves towards the end of cooking or just sprinkle on top! For a real treat sauté peeled whole cloves until lightly browned. The flavor will be surprisingly mild but delicious.
Everyone's favorite is Garlic Mashed Potatoes.    Also try Whole Roasted Garlic and learn how to roast garlic in the oven.
Cooking with Wine and Other Spirits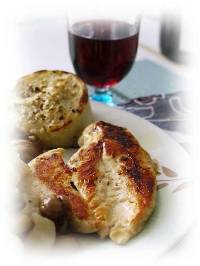 Cooking with wine and other spirits is an elegant way to add background and complexity to sauces and other dishes. 

Add alcohol at different stages of cooking. The alcohol evaporates quickly and what remains is the mellowed flavoring components and some acids contained in the liquor.



It is not necessary to use pricey alcohols for cooking but choose a wine or spirit that you would be happy drinking


Use alcohol to deglaze the pan and in the liquid of long-cooked sauces and stews. Also use at the end of cooking as a final deglazing and to heighten the flavor of the dish. The best way to do that is to turn up the heat for a moment, carefully splash in the alcohol then reduce the heat


See Pairing Food and Wine for tips on serving wine with your party foods


Wine adds an acidic lift to vegetables and keeps them from getting mushy (lemon juice and vinegar will accomplish the same thing)


Alcohol also helps to break down proteins in foods and is therefore a great marinade for meats as will as adding to the meats  as they cook. Will help tenderize tougher cuts.


As a general rule use  white wines in poultry, seafood and sauces made with chicken stock and with vegetables. Use  red wines for long-cooking tomato sauces, beef and brown sauces.  These are not hard and fast rules but a starting point for experimentation


Use brandy, cognac and whiskey for sauces, slow-cooked beef and desserts especially those made with fruit


To save money, buy alcohols in sample-size "nips" or miniatures.


 See our Alcohol Guide for information on serving alcohol at your party
---
Chicken Marsala Recipe
Some of the most delicious wines to use in cooking are sherry, Marsala and Madeira. They may be used interchangeable depending on what is available and affordable. This is an outstanding dinner party recipe idea
---