Baby Shower Menus

Baby shower menus are so fun to plan!

Baby shower menus should be light and satisfying. Don't forget the mother-to-be and her dietary needs. She may have a sensitive tummy and require bland foods (or plenty of ginger ale).



A simple menu could include finger sandwiches, appetizers and a salad. A great punch is always a must. For a co-ed party, add chicken tenders or wings and pizza. Prepare a veggie tray and purchased chips and dips and you're all set.  


Most baby showers will feature a special cake, but add at least one more dessert for an extra sweet ending.
Ohh Baby!
This makes a playful baby shower menu prepared with your favorite "baby" foods. Hearty enough for a co-ed shower. Serve in the early afternoon with mint tea, lemonade, fruit smoothies or cold fruit juice
Baby Portobello Stuffed Mushrooms
Assorted Crispy Crackers, Rolls, Breadsticks
Broiled Baby Lamb Chops with Tomato Oregano and Cumin Vinaigrette
Baby Baked Potatoes with Herbs and Butter

Tender Baby Vegetable Salad Platter with Creamy Garlic Dressing

Petit Fours, Mini Cupcakes, Lemon Mousse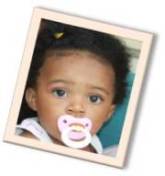 My Sweet Baby Brunch
A simple menu, perfect for your next baby shower, birthday party or anniversary brunch buffet. Serve with fruit teas, juices, white wine spritzers and coffee
Homemade Breakfast Sausage

Scrambled Eggs

Blueberry Corn Cakes with Walnut Butter and Maple Syrup

Spinach and Strawberry Salad

Purchased cakes, cookies, cupcakes



Picture Perfect Baby
This simple brunch covers all the bases. Start with eclairs and pastries and serve tomato or cranberry juice.

Scrambled Eggs with Asparagus

Croissants and Strawberry Jam

Baby Baked Potatoes
Serve with sour cream and chives

Garlic Shrimp

Multi-Layer Salad

Almond-Peach Crumble

Sophisticated Baby
Elegant and rich. Serve with mineral water or flavored waters, tea and coffee. Take it easy with purchased cakes or desserts


Crab and Pea Salad in Celery Ribs

Dijon and Herb Roasted Salmon
Serve with garlic mayonnaise

Asparagus and Parmesan Rice Salad
Mixed salad greens with olive oil and red wine vinegar

Strawberries With Ricotta Cream


Light Baby Shower Menu
This satisfying brunch or lunch menu is good for any occasion. Serve with fruit teas, champagne and white wine or white wine spritzers
Spinach and Garlic Frittata

Rolls or Biscuits

Roasted Mustard Potatoes

Simple Green Salad with Cherry Tomatoes, Lemon and Olive Oil

Olives, Relishes

Chocolate Walnut Biscotti
On The Go Baby
Many flavors and lots of veggies make this a great lunch menu and healthy for Mom and her guests. Serve with mineral water and lemonade
Vegetable Kebabs with Greek Marinade

Monte Cristo Sandwiches

Mediterranean Chicken Salad
Broccoli Salad

Southwestern Layered Salad with Cilantro Dressing
---