Easy Pancake Recipes_______
These easy pancake recipes are a change of pace from traditional pancakes.  You can actually eat pancakes at breakfast, brunch, lunch and dinner!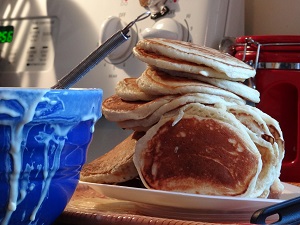 Keep pancakes warm on a wire rack in a 200° oven for no more than 20 minutes.  Reheat cooked pancakes on a wire rack in a 200° oven for about 15 minutes. 
If you wish, serve all of these easy pancake recipes with Nutty Butter and Homemade Pancake Syrup





Basic Easy Pancake Recipe
Makes about 4 pancakes
For a savory dinner time treat, add dried or fresh herbs or corn and diced green peppers to the basic pancake recipe batter. 
1 cup flour
1 egg
1 tablespoon butter, melted
2/3 cup milk
1 1/2 teaspoons baking powder
3 tablespoons sugar, less to taste
1/4 teaspoon salt
Sift the dry ingredients together, add the egg and mix it in until almost absorbed. Add the milk and mix until semi-smooth. Mix in the melted butter.

Ladle or spoon batter onto oiled preheated griddle or large skillet.  Cook until edges start to dry and bubbles appear on top surface.  Flip and bake other side to desired brownness. 
Homemade Pancakes for a Crowd
Makes about 100 pancakes
4 pounds 8-ounces all-purpose flour, all-purpose
4 ounces baking powder
1 1/2 tablespoons salt
12 ounces granulated sugar
12 large eggs
3 1/2 quarts whole milk
12 ounces melted, cooled shortening or butter; or use vegetable oil
Combine dry ingredients in mixing bowl and mix well.   Mix, using flat beater, until blended.   Add eggs, milk and melted and cooled fat.  Mix until large lumps disappear.  Do not over mix.
Keep batter refrigerated and use as needed.  Ladle or spoon batter onto oiled preheated griddle or large skillet.  Cook until edges start to dry and bubbles appear on top surface.  Flip and bake other side to desired brownness.

Apple Pancakes: Add 1 pound of peeled, chopped, cooked and cooled apples to the batter

Blueberry Pancakes: Add 1 pound of slightly thawed or fresh blueberries to the batter.  See Easy Blueberry Corn Cakes for more tips
Easy Blueberry Corn Cakes
Makes about 16-18 pancakes
To make sure that frozen berries are not too watery, rinse them under cool water in a mesh strainer until the water runs clear.  Spread them on a paper towel lined plate to dry. 
Coat berries with a little of the corn muffin mix to keep them from "bleeding".  If desired, substitute 3/4 cup mashed ripe bananas for the blueberries. 
2 8.5-ounce boxes corn muffin mix
2 eggs, slightly beaten
2½ tablespoons melted  butter
1½  cups  milk
1 tablespoon sugar, more or less to taste
1½ cups frozen blueberries, slightly thawed
Preheat  a griddle or large nonstick skillet over medium heat.  In a large bowl, combine the muffin mix with the eggs, melted butter, milk and sugar.  Gently mix in prepared blueberries. 
Add more milk, a little at a time if batter is too thick. Do not over mix or corncakes will be tough.
Lightly grease the griddle or skillet. Form small pancakes about 2-3 inches in diameter and cook until golden on both sides.
Oven Pancakes
Serves 4,  double to serve 8-10
These easy pancakes are similar to "Dutch Babies".  The batter will be thin and the finished pancake will have a thin crispy exterior and moist interior. 
Serve with fresh berries or sliced bananas, toasted nuts and a generous sprinkling of powdered sugar.
4 eggs
1 cup milk
1/2 lemon, grated rind and juice
1/2 teaspoon vanilla extract
1 cup flour
1/2 stick unsalted butter
Preheat oven to 475º. Whisk together eggs, milk, lemon rind and vanilla Add flour and beat until batter is smooth.
Place butter in a shallow greased baking dish and place in oven until butter melts. Pour in batter and bake 20 minutes until puffed and golden.
Quick look at an oven pancake
Cheddar Pancakes
Makes about 24 pancakes
Serve these rich and savory pancakes with maple syrup, applesauce or light sour cream.  A fantastic brunch pancake with bacon, sausage or ham and fried eggs
8 ounces grated Cheddar cheese
3/4 cup sour cream
3 large egg yolks, lightly beaten
3 teaspoons unbleached flour
3/4 teaspoon salt
1 1/2 teaspoons thyme
1/2 teaspoon dry mustard
2 teaspoons butter
In a large bowl, add the cheese, sour cream and egg yolks, mixing well after each addition.  In a separate bowl, mix together the flour, salt, thyme and dry mustard.  Add to cheese mixture and blend well. 
Melt the butter in the skillet over low heat and drop the batter by teaspoon into the skillet. Cook over medium heat until lightly browned on the bottom. Loosen the edges with a spatula, turn and lightly brown the other side.

Nutty Butter
Makes 2/3 cup

Also a treat on waffles, French toast or biscuits.  For more attractive table service, mold the walnut butter mixture into a small bowl and cover tightly with plastic wrap and refrigerate.  Allow to soften slightly before use. 
Butter can be made up to one week in advance.  Can also be frozen. 

Substitute the same amount of toasted pecans or almonds for the walnuts
1 stick butter, brought to room temperature
1/2 cup chopped walnuts, pecans or almonds, toasted
Preheat oven to 350° F.  Spread the nuts on a baking sheet and lightly toast in oven until just fragrant, about  8-10 minutes.  Remove, let cool and coarsely chop. 
Combine the butter and cooled nuts in a medium bowl and mix well with a spatula or spoon.   Spoon the mixture into the center of a sheet of plastic wrap.  Fold the wrap around the butter and gently shape into a log. Twist the ends to seal.  Refrigerate for about an hour.  Let soften slightly before use. 

Will last up to 2 weeks in the fridge or up to 6 months in the freezer. 
Homemade Pancake Syrup
Makes about 1 1/2 cups
1 cup dark brown sugar
2 tablespoons all-purpose flour
1/4 teaspoon nutmeg
1 cup boiling water
1 tablespoon butter or margarine
In small saucepan, combine brown sugar, sugar, flour and nutmeg. Gradually add water. Cook; stir until thickened.  Blend in butter.
Tell Us What You Think About Easy Pancake Recipes