Lamb Chops Recipes

These lamb chop recipes work well on a buffet or on a special occasion menu.  Try "Baby" Lamb Chops on your next baby shower menu.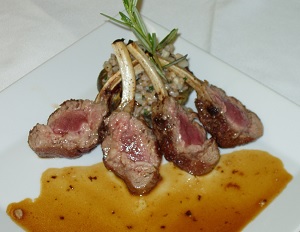 Frenched Lamb Chops
Helpful Hints
Baby lamb chops are generally small rib chops which have been "Frenched".  The are exquisite and expensive. 


"Frenching" refers to a culinary technique of cleaning the rib bones of meats by scraping away the thin layer of meat, sinew and fat down to the main nugget of meat. It is done mainly for aesthetic reasons.  Ask your favorite butcher 


If baby lamb chops are unavailable or cost prohibitive, choose small lamb rib chops


Cooking temperatures for all lamb chops: 145°F for medium-rare, 160°F for medium and 170°F for well.
Spicy Marinated Lamb Chops  
Serves 4

Marinade
2 tablespoons olive oil
2 1/2 tablespoons Dijon-style mustard
2 tablespoons lemon juice
1 tablespoon Worcestershire sauce
1 tablespoon finely chopped garlic
1 1/2 teaspoons red pepper sauce
1/2 teaspoon paprika
1/2 teaspoon salt
4 lamb shoulder chops (blade or round bone), cut 3/4 inch thick
In a baking dish or bowl, combine all marinade ingredients.  Place the lamb chops in a dish or zip-loc bag and coat well with the marinade. Cover and refrigerate for 6 to 8 hours, turning occasionally.
To Broil: Cook lamb 4 inches from heat source. Broil for 5 to 6 minutes per side or to desired degree of doneness

To Grill: Cook lamb over medium-hot coals. Grill 4 inches from coals for 5 to 6 minutes on each side or to desired degree of doneness.  



Quick Baby Lamb Chops Recipe
Makes 12 chops

To present chops, place bowl of Tomato and Oregano Vinaigrette (see below) on large platter and surround with cooked chops. Garnish platter with lemon wedges and sprigs of tarragon. thyme or parsley.

Serve with Baby Baked Potatoes and Tender-Crisp Vegetable Platter

12 baby lamb chops or small rib chops
Olive oil
Salt and freshly ground pepper
Lemon wedges
Fresh herbs for garnish

Preheat the broiler to high.   Generously brush chops on both sides with olive oil and season with salt and pepper.

Grill for 2 to 3 minutes on both sides for medium-rare doneness.

Drizzle chops with additional olive oil to keep moist and season with salt and pepper.



Tomato and Oregano Vinaigrette
Makes about 1 1/2 cups

Make up to 2 days in advance. Cover and chill

4 medium very ripe plum tomatoes, peeled, seeded and chopped
3 cloves garlic, minced
1 teaspoon fresh oregano, chopped
Pinch ground cumin
5-6 teaspoons fresh lemon juice
4 teaspoons olive oil
Salt and freshly ground black pepper

Place tomatoes, garlic, lemon juice and oil in a blender or food processor. Process until very smooth. Season with salt and pepper.

For the lamb chops recipe, serve at room temperature.




Balsamic-Honey Glazed Lamb Chops with Pears
Serves 8

8 lamb shoulder or rib chops
Light olive oil
1 1/2 teaspoons dried thyme leaves
Salt and coarse black pepper to taste
1/2 cup balsamic vinegar
1/2 cup honey
4 small pears, peeled

Brush lamb chops with oil and sprinkle with thyme, salt and pepper. Cook in large skillet over medium-high heat for 7-10 minutes depending on thickness, turning once.

Heat vinegar and honey in another large skillet. Stir and bring to a boil. Core and cut pears into medium-thick slices. Add fruit to bubbling mixture, turning to coat. Cook until the fruit is tender-crisp.

Place browned lamb chops into the fruit mixture. Turn the chops to glaze with sauce.  Cook to desired degree of doneness. Serve with fruit and a drizzle of sauce.