Chicken Marsala
This is a delicious, restaurant quality Chicken Marsala.  Try with angel hair pasta or our Rich Garlic Mashed Potatoes.  You can easily double or triple the ingredients to make Chicken Marsala for a crowd.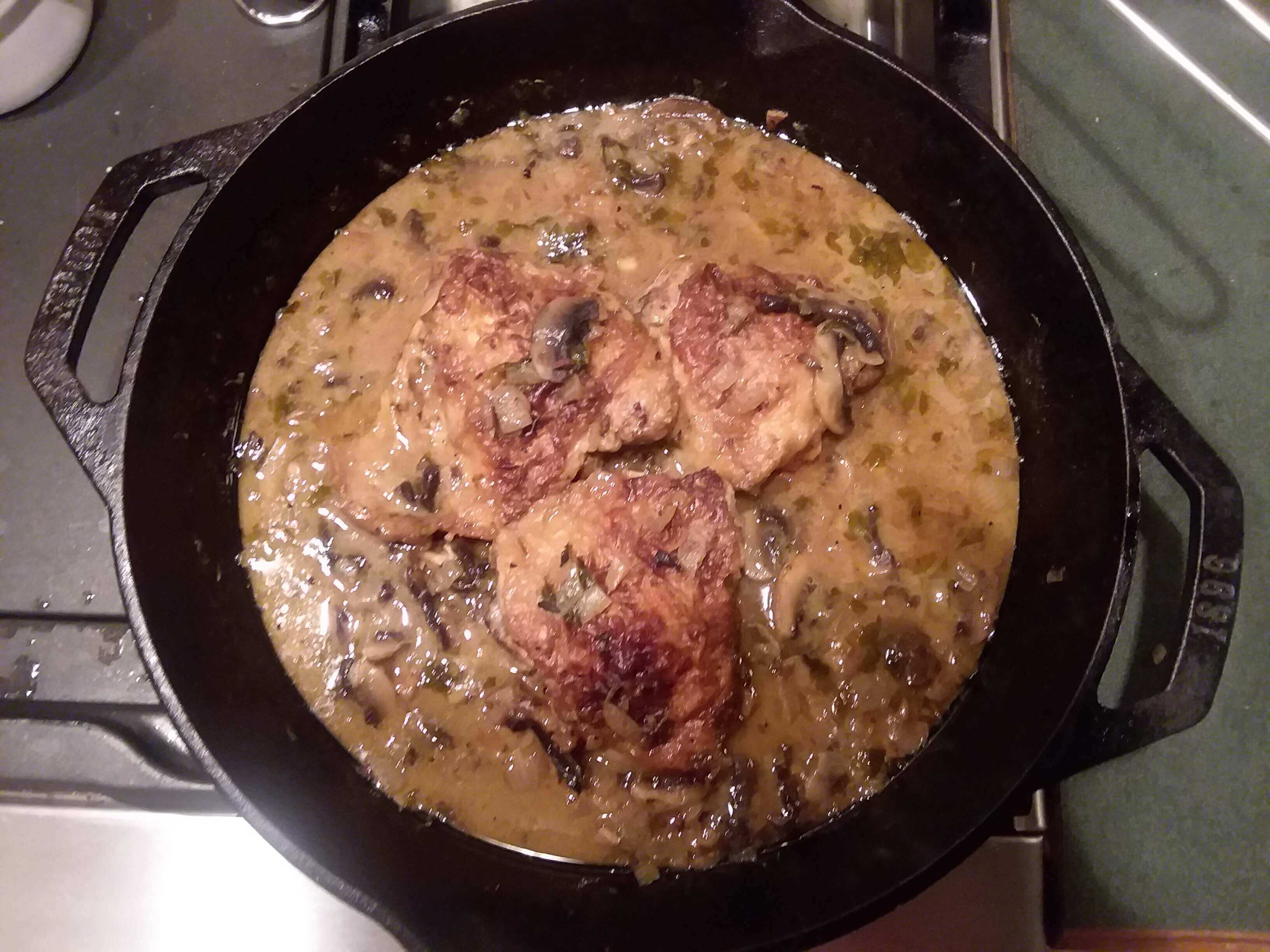 Chicken Marsala

Helpful Hints

Pancetta is an Italian bacon that is not smoked.  The fat released from the pancetta gives this dish its deeply satisfying flavor. 
Look for pancetta in your grocers deli case.  If not, use the same amount of thick-sliced bacon cut into a small dice.
If you cannot find Marsala wine, use dry sherry or Madeira
Use a mixture of wild mushrooms for better flavor
This dish can also be made with turkey, veal or pork cutlets


Chicken Marsala
Serves 4
1 cup all-purpose flour
4 boneless chicken breast halves
Salt and ground black pepper, to taste
2 tablespoons vegetable oil
2 1/2 ounces pancetta (about 3 slices), cut into small diced
8 ounces white mushrooms, sliced
2 medium garlic cloves, minced
1 teaspoon tomato paste
1 1/2 cups sweet Marsala wine
Juice from 1 lemon
1/2 cup reduced sodium chicken broth, or as needed
Additional salt and ground black pepper, to taste
4 tablespoons butter, cut into pieces and softened
2 tablespoons fresh parsley, chopped

Pound each chicken breast half to about 1/4 inch thickness.  Dry chicken with paper towels.
Place flour in shallow baking dish or pie plate.  Season both sides of dry chicken cutlets with salt and pepper.  Working one piece at a time, coat both sides with flour. Shake to remove excess flour.  Set aside.
Heat a large heavy bottomed skillet over medium-high heat until very hot, about 3 minutes.
Add oil to hot skillet and heat until shimmering.  Place floured cutlets in single layer in skillet and cook until golden brown, about 3 minutes.  Flip cutlets and cook on second side until golden brown and meat feels firm when pressed with finger, about 3 minutes longer.
If cooking Chicken Marsala for a party, transfer chicken to a plate and rest in a 200 degree oven as you prepare the rest of the dish.
Reduce skillet to low heat and add pancetta or bacon.  Sauté, stirring occasionally and scraping pan bottom to loosen browned bits and prevent sticking.  Cook until pancetta is brown and crisp about 4 minutes.  With slotted spoon, transfer pancetta to paper towel lined plate and drain well.   Allow oil to remain in pan in order to cook the mushrooms.
Add mushrooms and increase heat to medium-high.  Stirring occasionally and scraping pan bottom,  until liquid released by mushrooms evaporates and mushrooms begin to brown, about 8 minutes. 
Add garlic and tomato paste and cooked pancetta or bacon.  Cook and stir until tomato paste begins to brown, about 1 minute. 
Off heat, add Marsala.  Return pan to high heat and scrape browned bits from pan bottom (deglaze).  Lightly boil sauce until it is slightly syrupy and reduced by about one-half, about 5 minutes.  
Return chicken cutlets and any accumulated juices to pan, tucking them into the sauce.  Add lemon juice.  Whisk in butter 1 tablespoon at a time.  Add small amounts of chicken stock to assure that sauce is not too thick and that the cutlets are generously coated. 
Season to taste with salt and pepper, and stir in parsley.