Crawfish Etouffee_________
Crawfish or "mud bugs" as they are lovingly referred to in Louisiana, are small crustacean that look like miniature lobster.  If fact they are related.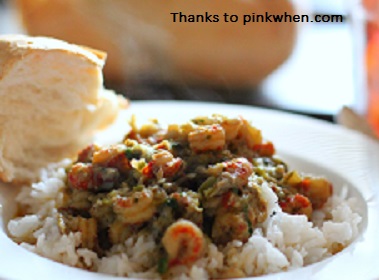 Most Cajuns eat all parts of the buggers but the seasoned crawfish tails are used in jambalaya, bisque and crawfish etouffee.  The tails are brinier and more strongly flavored than the tails of their lobster cousins. 

Etouffee (pronounced ay-TOO-fay) is French for "smother". This refers to the rich, deep sauce that surrounds the crawfish tails, coming from a brown roux and a surprisingly short cooking time.  
Crawfish tails can be found frozen in some markets. You can also order whole, live crawfish and fresh or frozen cooked crawfish tails through online purveyors, usually sold in 1 lb bags. 

BONUS: Chicken Etouffee Recipe


Crawfish Etouffee Recipe
Serves 4-6

Thaw frozen crawfish overnight in the refrigerator and use crawfish fat if available.  This dish freezes well and can also be made up to 3 days ahead without adding the crawfish and about 1 day ahead when the tails are added.
Makes a perfect make ahead dinner party meal.  Serve over hot cooked rice.
You guessed it, raw, peeled and deveined shrimp can be substituted for the crawfish tails.
3 cloves garlic, minced
1 scant tablespoon tomato paste
1 tablespoon butter, if not using crawfish fat
1 cup warm water or warm low-sodium chicken broth, plus additional as needed.
1/4 cup green onion, thinly sliced
1/4 cup fresh parsley, finely chopped
1/8 teaspoon ground cloves
1/8 teaspoon chili powder
1 tablespoon lemon juice
Salt and freshly ground black pepper to taste
1/2 teaspoon ground red pepper (cayenne), or to taste
Fresh parsley (optional)

Heat the oil in a large heavy saucepan over medium high heat, about 1 minute. Stir in flour until smooth. Reduce heat to medium and continue cooking slowly, stirring constantly, about 10 to 20 minutes or until a reddish brown roux is formed. 
Roux should be close to this color color square.   Be very careful not to scorch or burn. 

Add onions, celery, green peppers, garlic and tomato paste to saucepan. Cook and stir for about 5 minutes or until vegetables are very soft.

Add butter or crawfish fat. Stir until melted. Stir in warm water or broth, lemon juice, green onions, parsley, ground cloves, chili powder, red pepper and ground black pepper, to taste. Test for salt and add to taste (the crawfish tails are salted when cooked).

Bring to boiling.  Add crawfish, stir and return to boiling. Immediately reduce heat to low and simmer, uncovered, about 5 minutes or until heated through. Add additional water or broth, a little at a time, if mixture is too thick.   Remove from heat and let stand for 10 minutes to allow the seasonings to blend.  Garnish with parsley, if desired.

Chicken Etouffee Recipe

Serves 4-6

Etouffee can actually be made with any protein or hearty vegetable (think eggplant).  Crawfish and shrimp are the classics but here is an etouffee made with diced and sauteed chicken breast. 

2 cups all-purpose flour
1 tablespoon salt
1 tablespoon ground black pepper
1 teaspoon ground cayenne pepper
1/4 cup butter
1 tablespoon extra-virgin olive oil
1 (16 ounce) package skinless, boneless chicken breast halves, cubed
1 green bell pepper, chopped
1 onion, chopped
3 stalks celery, chopped, or more to taste
1 clove garlic, minced
2 tablespoons butter, or more to taste
1 cup water or low-sodium chicken broth, or as needed to cover
4 bay leaves

Whisk flour, salt, black pepper, and cayenne pepper together in a bowl. 
Heat 1/4 cup butter and olive oil in a large skillet. Dredge chicken cubes in seasoned flour and fry in the hot butter and oil until golden brown and no longer pink inside, about 10 minutes.
Remove chicken, leaving butter mixture in skillet. Add additional butter to equal about 1 tablespoon.  Reduce heat to low.

Stir 1 tablespoon leftover seasoned flour into pan drippings in skillet; cook and stir until the mixture forms a paste and cooks to the color of dark caramel, 10 to 15 minutes.

Watch carefully and stir constantly to avoid burning. Add bell pepper, onion, celery, garlic, and 2 more tablespoons butter to flour paste and toss to coat vegetables with butter and browned flour mixture. Cook and stir until vegetables are soft, about 10 minutes.

Pour in enough water to cover vegetables, add bay leaves, and bring to a simmer.  Return chicken to skillet and cook until flavors are blended, about 10 more minutes. Serve with cooked rice.
---
---
Tell us how much you like our Crawfish Etouffee...