Party Appetizers

...

your new favorites!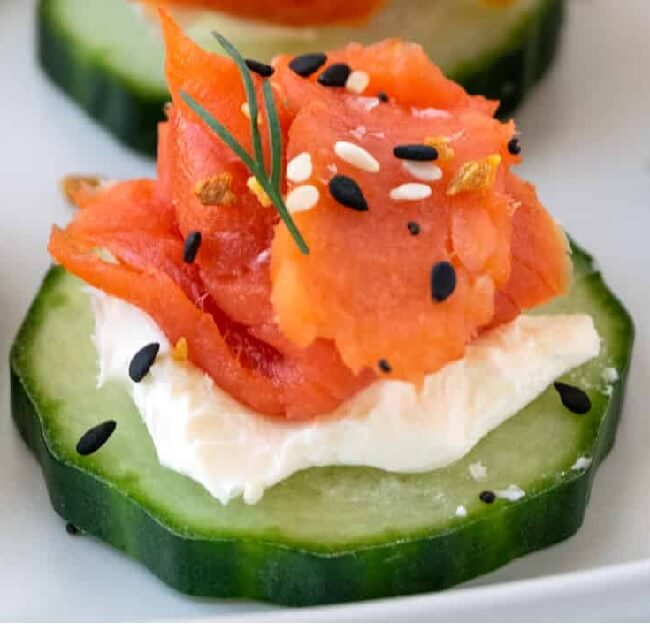 Smoked Salmon and Cucumber
Cheddar Crisps

(Fried Cheese)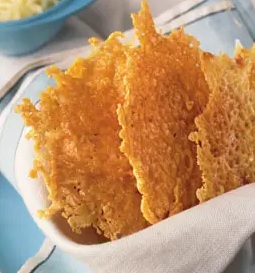 Cheddar Cheese Crisps

Here is is an easy but outstanding party appetizer.   These cheesy treats are a light nibble before dinner and fabulous as a salad topper or to serve with cocktails.  Try on tomato or any type of soup.  Can be made up to 2 days in advance.  Store in an airtight container for about 3 weeks.   Parmesan, Romano and Asiago cheeses are excellent substitutions for the cheddar.  
Also called Fricos which is a traditional Italian snack.


Makes about 24 crisps

1 1/2  cups shredded sharp cheddar cheese
Optional garnishes: Black, red or lemon pepper or a combination; Italian or Mexican spices or herbs; Everything Bagel seasoning blend


Preheat oven to 425° F. Line a baking sheet or sheets with parchment paper.  Adjust racks to middle position.
Spoon about 1 tablespoon cheese on sheet, spreading out into a single, round layer.  Leave about 1-inch of space between each cheese round. Sprinkle with a touch of pepper. 
Bake until crisps just about stop bubbling, 9-10 minutes.  Watch carefully, do not let brown.  Immediately transfer to a wire rack to cool.  

Queso Frito

(Fried Cheese)
Serves 4-6 as an appetizer.  May vary depending on whole cheese shape and size
Frico's chubby cousin!  Many variations of this dish exist in all types of cuisines.  This cheese party appetizer is made with thick slices of (most) semi-soft cheeses such as manchego, gouda, fontina or mozzarella.   These goodies fry quickly so don't walk away from the stove. Best served immediately while the cheese is hot and soft and the outside is crispy.  

Can also be served as a first course atop a green salad which contains fruit and nuts.  

3 tablespoons all-purpose flour
1 teaspoon paprika
2 eggs
½ cup fine bread crumbs
1 pound semi-soft cheese, cut into ½ inch slices
Oil for frying
You will be making a three-step dredge. In a plate, mix the flour and paprika together.  Beat the eggs together in a bowl and put the bread crumbs on a another plate.  Dredge the cheese slices in the flour shaking off excess, then the eggs, then bread crumbs.  Put the cheese on parchment paper and refrigerate for about 45 minutes. 

in a large skillet add ¼ inch oil over medium-high heat. Make sure the oil is hot and fry the cheese until golden brown, about 20-30 seconds.  Flip to the other side and repeat.  Drain preferably on a wire rack and serve immediately. 
Spicy Asian Lettuce Cups
Makes about 12-16 lettuce cups  
Cool, crisp lettuce cups are filled with a rich Asian flavored filling.  Great party appetizer for cocktail parties or as a first course for an Asian inspired dinner party.  
The filling can be made up to 4 days in advance and stored in a tightly covered container.  Leftover filling?  Add a bit of tomato sauce or hoisin sauce and water to loosen the meat filling.  Heat and serve with steamed rice and fresh vegetables.  
1 tablespoon vegetable oil
1 medium onion, finely chopped
2 cloves fresh garlic, minced
1 pound ground pork or chicken
¼ cup hoisin sauce plain ketchup
1 tablespoon soy sauce
1 tablespoon rice wine vinegar
3 teaspoons Asian (dark) sesame oil
2 teaspoons red pepper flakes, or to taste
1 tablespoon light brown sugar
12-16 iceberg, butter or green lettuce leaves, separated and cut into 4-5 inch cups
1 bunch green onions, white and green parts sliced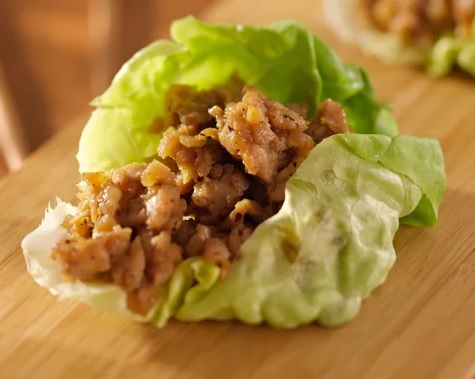 Asian Lettuce Cup
Clean lettuce and spin or pat dry before preparing cups.  Set aside.  

Heat oil in a large skillet over medium-high heat. Add onion to the same skillet and saute until softened, 3 to 5 minutes.  Stir in garlic until fragrant.  Add the ground meat and cook and stir until browned and crumbly, 5 to 7 minutes.  Drain off any excess grease or liquid.
In a small bowl combine hoisin, soy sauce, vinegar, oil, pepper flakes and sugar.  Add to meat mixture and cook until thickened.  Remove from heat. 
When ready to serve, reheat filling if needed.  Arrange lettuce leaves on a large serving platter and fill each with about 2 tablespoons of mixture.  Garnish with the green onions and chopped nuts

Easy Smoked Salmon & Cucumber Rounds
Makes about 20 appetizers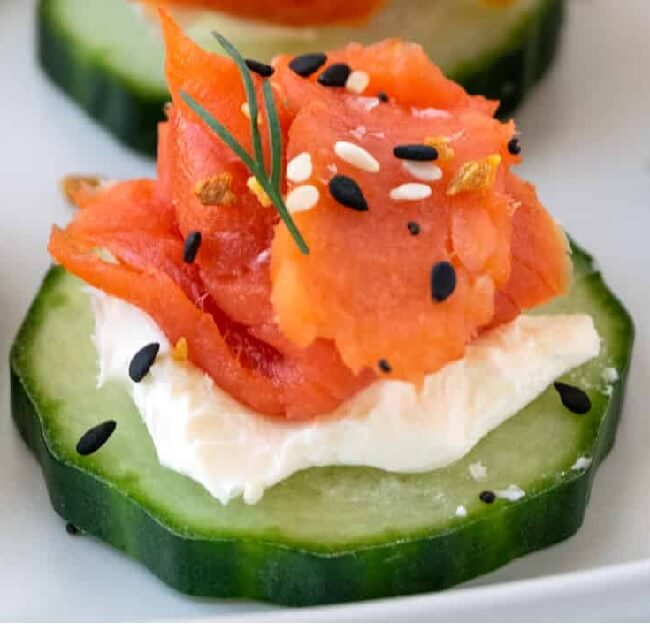 Smoked Salmon, Cream Cheese and Cucumber
Here is a classic appetizer for smoked salmon lovers.  The cream cheese mixture can also be spread on crackers or other types of bread, with or without the cucumber slice.   Substitute other fresh finely chopped herbs and minced garlic to the mix instead of dill and green onion.  Top with sesame seeds or Everything Bagel seasoning.

1 English cucumber, sliced into 20 rounds
Kosher salt for seasoning
4 ounces cream cheese, softened to room temperature
1 tablespoon plain Greek yogurt or regular mayonnaise 
1 teaspoon Dijon mustard
2 tablespoons chopped fresh dill, plus dill sprigs to top
1 green onion, very finely chopped
3 ounces purchased smoked salmon
Slice the cucumber into 1/4-inch slices and sprinkle each with a tiny bit of the salt.  Place slices individually on paper towels while you prepare other ingredients.  In a medium bowl, mix the soften cream cheese with the yogurt, mustard, chopped dill and green onion. 

Place a dollop of cream cheese on each cucumber slice, then top with a small piece of smoked salmon. Top with dill sprigs and refrigerate until time to serve. 

Mushroom Relish 
Makes 4-8 servings
A different party appetizer of marinated mushrooms, tomatoes and rosemary.  Serve on crostini, crackers or baguette slices. Perfect as side dish on an appetizers-only buffet with lamb chops, pork tenderloin, beef roast or in a salad .  Make sure mushrooms are fresh without too many brown splotches, sliminess, or gummy gills.  Can be made right before service or cover and refrigerate overnight.  Bring to room temperature before serving. 
1 pound Portobello, cremini or button mushrooms
1 pound Roma (plum) tomatoes, cored and seeded
2 garlic cloves, minced
¼ cup extra virgin olive oil
3 tablespoons fresh lemon juice
½ teaspoon dried rosemary leaves or ¼ teaspoon ground rosemary
Kosher salt and freshly ground black pepper to taste
Optional: Pinch of red pepper flakes
Remove excess debris from mushroom caps with a damp paper towel.  Cut mushrooms into a small dice.  Cut tomatoes in similar sized dice.  In a large bowl, mix oil, juice and rosemary.  Add mushrooms and tomatoes and toss to combine.  Season with salt and pepper and pepper flakes if using.  Cover and let rest for up to 2 hours.