Party Menu Ideas
Since 2005, I have received many terrific questions about party planning, party menus and cooking for a crowd.

I hope by sharing some of your gems, others will find the answers to their most burning cooking questions.  If not, just email me
Keep the questions coming!
Chef Deb

More Questions Answered
Party Planning Questions
Cooking for a Crowd Questions
Q.
Hot Turkey Sandwiches
I wonder if you can help me. I'm planning a party for about 50-75 people. I was thinking hot shredded turkey sandwiches and cheesy hash browns but am unsure how much to make and what else to have. I thought homemade cookies and candies for dessert. Can you help?

A.
When you say shredded turkey I assume you mean something similiar to "pulled pork" sandwiches.  I'm not sure cheesy hash browns are a good compliment to the sandwiches because they are almost the same consistency as the turkey and would be "too much", if you know what I mean.   

For the amount of turkey to serve, you could start with about 1/4 to 1/2 pound of boneless turkey breast meat per person. Please do the math. To serve with, I would choose simple potato, sweet potato or vegetable chips. 
Other dishes to serve would be lightly dressed coleslaw with cranberries and pecans (just like Thanksgiving). Homemade cookies and candies are always perfect!
Hope this helps


Q.
Big Huge BBQ Bash
I am having a BBQ this coming Sunday for 40-50 people.  I am having doubts that I have enough food for everyone. Can you look over my menu and tell me if I am OK or need more??? Please????

25 lbs roast suckling pig
5 lbs grilled sausage
5 lbs Italian sausage and peppers
45 meatballs and sauce
60 chicken wings
3-4lbs roasted squash dish
20 corn on the cob, cut in half
7 lbs potato salad
5 lbs pasta salad
Large garden salad with 5 heads of romaine, tomatoes, onion, mushrooms and olives
40 deviled eggs
40 bacon wrapped cheese stuffed jalapenos
3 lbs baked beans


32 hamburgers & 32 hot dogs and rolls
50 hard rolls
Condiments, sauteed onions, etc for burgers and hot dogs
Homemade tomato bruschetta
Iced tea, lemonade, 1/4 keg beer
Chips and dips
Fruit salad
Ice cream sundaes with 5 gals various flavors with toppings
Brownies, zucchini bread, Smores
Coffee and Tea
A.
Whew! The only thing I see wrong with your menu is that I'm not invited! Great menu, lots of variety and flavors.  Without doing any calculations and not knowing how hungry your crowd is, I would say you will have plenty of food with not too much left over.  I might throw in a few more hard rolls to serve with the roasted pig,
sausage and meatballs but you will also have the bruschetta which could also be served with the meats. 

As you have done, it's a good idea not to have 50 servings of everything because not everyone will eat a serving of everything. Thanks for visiting the site. Have fun! Let me know how it turns out.



Q.
Mardi Gras Mambo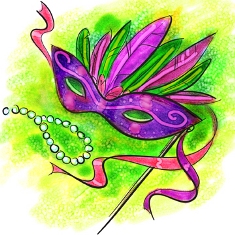 I live in California & I'm trying to make shrimp Etouffee for 50 people (Mardi Gras party).  I would like to make it ahead of time.  Do I add the shrimp right before I serve it or do I add it when I'm making the whole recipe.  Do I reheat in the oven or on the stove?  Also do you have any recipes for Red beans & rice for 50? Thank you.


A.
Thank you for visiting Chef-Menus.com.  Hope this reaches you in time. Cooking ahead of time is always best for well seasoned dishes like Etouffee and always takes some of the stress off of the host/cook .   Definitely add the shrimp before reheating and serving if you do not want overcooked rubber. 

What I would do is remove the shrimp from the fridge about 30 minutes before reheating.  Season them with a seasoning blend or any mix of salt, pepper, garlic powder etc., you know what I mean. I would reheat on the stove to make it easier to keep an eye on things.  Add the raw shrimp to the slightly warm Etouffee and slowly heat the sauce while cooking the shrimp until they are opaque.
I don't have a specific recipe for red beans and rice for 50.  You don't really need one because the ingredients and cooking method is very straightforward and any recipe can easily be multiplied to accommodate the number of servings you want.    Look at this red beans and rice recipe.  It serves 10 on average.  Just multiple the ingredients by 5. 
Same thing for rice.  Look at the suggested number of servings on your favorite package of rice and then do the math!
Hope this helps Lori,  you have inspired me to host an impromptu Mardi Gras party of my own, hadn't planned on it…..thanks!



Q.
Hungry Cubs
Hello, while searching the web for some help I came across your site. I liked the way that you have answered the questions that were submitted. Very helpful.  

Ok, here's the deal. I have been dubbed the cook (again) to feed 400+ Cub Scouts and parents a total of 4 meals. I am tired of the same stuff every time. Pancakes, eggs, hamburgers, hot dogs and spaghetti.
Can you help me with some new menu items that will feed young boys and adults. The budget I have been given is $5 per plate.   I will be using a full size commercial kitchen with lots of volunteer help.
A.
Thank you so much, I do try to be helpful ;-) .  $5 per person limits you a bit but it is not an impossible task. In my experience most kids like comfort foods; dishes that are creamy, cheesy, soupy and stew and casserole like, such as lasagna, chili mac (macaroni, gr. beef and tomatoes. It's called by different names depending on where you live).
Also baked spaghetti and meatballs. Chicken cacciatore or simple chicken and potatoes or rice are also good.  Ready made sandwiches like shredded BBQ chicken Sloppy Joes with coleslaw or a simple lettuce and tomato salad.  
With all of this also have something crunchy or crisp for contrast like apple and celery salad. These types of dishes are also relatively easy to prepare for such a large crowd because they are basically "one pot-cook and serve"
Whole turkey with mashed potatoes is also good - should fit your budget.  Maybe fried chicken legs or fried fish fillets with mashed potatoes, mac and cheese, stuffing.  May be a little harder to execute
So glad you have access to a comm. kitchen, makes your life a whole lot easier.  Hope this is helpful!  And thanks for visiting Chef-Menus.com.  Chef Deb 
 
 
Q.
Salads For All
Hi, I'm cooking for about 100 people, making tuna mac salad, potato salad and pasta salad.  How much in advance can I make these?  thanks
A.
Thanks for visiting Chef-Menus.com.  I would not make any of these salads more than 1 day ahead.  Be sure that both pastas and the potatoes are well drained to reduce sogginess. Also drain tuna well.

The best thing to do (in my experience) is to prep individual components 1-3 days ahead, such as chopping the onions, celery etc. Store layered with paper towels to absorb excess liquid. You could also peel and slice the potatoes and store in water in the fridge 1-2 days ahead.  You could also make the pastas 1-2 days ahead. Rinse and drain well before using. Hope this helps!
Chef Deb



Q.
Baby Shower Brunch
We are having a baby shower for my daughter. It will be a brunch  from 12 noon to 3 pm on a Sunday. Mostly women and a few guys for the brunch part. We will first have appetizers, pita & hummus, sausage bread, spinach bread, Mimosa's cheese and crackers.
The girls will play games and the guys will be at the pool. we will then have the brunch 1:30 or so. I have a spiral ham was thinking of making some quiche and frittatas.  Followed by cake, fresh fruit, cookies & coffee.  Any suggestions?
A.
Thanks for visiting Chef-Menus.com and congratulations Granddad!   My first suggestion would be to add something like a veggie tray with dip to your appetizer list. You seem to have a lot of bread based apps and that could potentially fill your guests up too quickly. Maybe delete one.
The only other thing is to reconsider having quiche AND frittatas. Call me a purist, but two egg dishes may be too much. Consider the frittatas, roasted new potatoes with fresh herbs and a green salad, along with the fruit and desserts.  Hope this helps and I wish you and your family a healthy happy new addition.


Q.
90th Birthday Party Menu
Hello- I am planning a family get together for my grandmas 90th birthday in February. I want to keep it simple and plan on having like an open house where people can come - visit - reunite- munch.  It will be in the afternoon from 2-4 or so. Any menu ideas or suggestions. Thought about just cookies and cake but seems to bland. HELP!!
A.
Hi, thank you for visiting chef-menus.com. Congrats to your Granny.  Serve a few easy-to-do snacks and appetizers. How about finger sandwiches alongside olives and pickles, homemade dip with crispy flatbreads or pita chips, stuffed mushrooms and/or a veggie and fruit tray. Cake and cookies, plus tea, hot cocoa and lemonade could round out the menu (maybe Mimosas if you are so inclined). 
Also, if people will be coming in and out, only put out small amounts of food at a time. You will have to continually replenish, but the food will always be fresh and safe.  Hope this helps - Happy Cooking 
Q.
Healthy Dinner Menus
Hi, any suggestions for Wednesday night church dinners? last year the menu was bland and didn't have enough good veggies. I'm working with volunteers, so I'm trying to keep things simple, but I want taste and nutrition.  THANKS!!!
A.
Hi there.  Ummm? An exact menu would depend on who's cooking, who and how many are eating and how much money you want to spend. You get the idea. 
My first thought is to devise a theme menu or a menu from a certain type of cuisine or of a particular ethnic group (Italian, Mexican, Mediterranean, Greek, etc). Those cuisines are usually well seasoned and flavorful. Stick with the traditional dishes like enchiladas, ratatouille, paella, arroz con pollo, spicy meatballs, chicken Marsala.  I was born and raised in New Orleans so I'm partial to those flavors and cooking styles.
So how about: Shrimp, chicken or steak Creole over garlic mashed potatoes, green beans Italiano and 7 layer salad and/or pear salad. You can finish with Bananas Foster over vanilla ice cream.
Start with marinated olives and salted nuts and include a crispy type of sesame flatbread. These dishes are fairly easy to prepare and will give you loads of veggies and fruits without a lot of fat.   I hope this helps. Thanks again.  Chef Deb
Q.
Backyard Wedding Party Menu Ideas
My niece has asked me to prepare a buffet meal for her backyard afternoon wedding party for 60-70 guests. I have a tentative menu in mind that includes punches , alcoholic and non-alcoholic, with about four different appetizers to start. The appetizers are able to be made ahead and chilled till serving time.

The entrees are marinated pork tenderloin and  grilled boneless chicken breast which would both be prepared in the morning and reheated for serving. A pasta salad or two as well as a rice dish would be the sides to go along with a garden salad.  Desserts haven't been planned as yet.

Keeping items chilled and warming of items that need reheating doesn't appear to be a problem as yet but I was wondering if you can see any problems or challenges being presented by this menu or if you have any other suggestions they would be appreciated.  
A.
Thanks for visiting Chef-Menus.com. Sounds like a good menu for a summer celebration. Assuming you are in the US, one of the main concerns is making sure that the food does not spoil in the Aug. heat. You seem to have that under control. My only other suggestion is that if possible, wait until it is almost time to serve, before you cook the pork and chicken. These meats do not reheat very well and dry out and become rubbery. Alternatively, you might serve them cold with a room temp sweet and sour sauce or a soy and ginger sauce (depending on your other flavors)  Have Fun! 
Q.
Brunch Menu
I started having breakfast for our church members and some of the  seniors said it was to early, so I thought about a brunch. Could you suggest some menu for me. Nothing fancy, just something that I know the seniors would enjoy. We live in South Carolina. Hope that helps some. Thank you and have a bless day
A.
These suggestions of course depend on your budget, space, number of guests, their appetites and number of helpers.  How about:
I.  Assorted Pastries, Muffins, Juices, Coffee and the like  A ham carving station: you could also get a spiral sliced ham OR bacon, ham steaks or sausage  An omelet and/or scrambled egg station:
Provide additions such as mushrooms, chopped tomatoes, cheese, etc
Cheese Grits
Potato Au Gratin or similar potato casserole: this keeps better on a buffet then hash browns
Crispy Crunchy Veggie Salad: to offset all the soft food
Simple Fruit Platter or fruit salad with cheese and nuts
II.  Assorted Pastries, Muffins, Juices, Coffee and the like
Country Ham and Biscuits
Jams, Jellies, Honey, Butter 
Scrambled Eggs 
Shrimp or chicken Pasta Salad with Crackers
Strawberries or Peaches and Whipped Cream
Also consider, baked pasta with meat, baked rice and veggies, chicken salad over mixed greens or chicken salad sandwiches, rice salad, cooked apples.  Hope this helps