Planning a Party?

To get from the kitchen to the table, planning a party requires choosing a meal and a style of service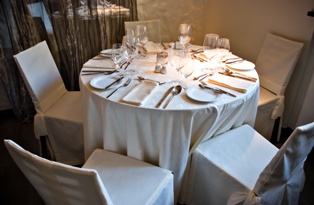 So you're planning a party! You have determined your budget, time, location and number of guests. No matter how formal or informal you want the event to be you must decide the best way to feed your hungry guests. Let's discuss the meal and the style of service.

Cocktail Parties and Outdoors Parties are other fun ways to entertain


Time to Eat

Time to choose a meal then design your menu. The time of day you want or need to host the party will determine the type of meal you will prepare.

Baked Eggs and Toast
Breakfast
Best served from early morning until 11am
Light, delightful and short and sweet, a breakfast gathering is fantastic for a church fundraiser, early business or community planning meeting, open house or a welcome or farewell occasion. Breakfast foods do not necessarily have to be substantial unless it is a special holiday starter. A pancake and waffle breakfast is also good for a young child's party.

With adequate space, host this party right from your home kitchen, either buffet-style or seated. Make use of your breakfast bars, cooking islands and stools. Go beyond bacon and eggs. Add melon and prosciutto, sautéed mushrooms on toast and fresh brioche and marmalade. Flavored coffee, espresso, cappuccino, hot tea, tomato juice and yogurt smoothies are good beverages to offer

Brunch
Late morning until 3pm
No one can resist a good brunch. This meal lends itself to a wide variety of foods and can be served in a relaxed atmosphere, making it a very popular choice when entertaining at home.

Brunch menus can be served from mid-morning to early afternoon and tend to be a little more filling then breakfast. Consider this meal when planning a party for a baby shower, bridal shower, birthday party, Mother's Day, Father's Day or other holiday celebration. Brunches are fantastic for a school function, business or networking meeting or neighborhood open house.

Brunches are almost always served buffet-style and can also be hosted from your home kitchen. In addition to breakfast beverages, also serve mimosas, champagne, Bloody Mary's or wine spiritzers.



Lunch
Late morning until 2pm
Luncheons can feature heartier fare. Some people are accustomed to a full-size lunch in lieu of a light supper or dinner. An at home lunch is excellent for graduations, birthdays, retirement parties, committee meetings and celebrations of achievements.
Lunches can be served buffet-style depending on the space and location. A seated luncheon puts one in mind of speeches and awards but can still be a casual yet elegant way to plan a party at home.

Dinner
Early evening until 8pm
A dinner party can be a sophisticated, stylish seated affair or an unfussy buffet where everyone sits on the floor. It is a time to create closeness and make new friends but it should not be a time to overdo it with elaborate, multi-step recipes that leave you in the kitchen all evening.
Instead choose a super easy yet super impressive main course like Slow Roasted Lemon Chicken. It cooks in a low oven for almost 3 hours. Think of all you can get done in those 3 hours, or you could enjoy a cocktail or two with your guests.
Elegant Dinner Menu
Crabmeat Stuffed Mushrooms
Succulent Rib Roast
Easy Potatoes Au Gratin
Oven Roasted Vegetables
White Chocolate Crème Brulee
Service Styles

| | |
| --- | --- |
| Service style refers to the way in which you present your delish party food to your guests. The service style usually depends on the amount of space you have, the number of guests and the purpose of the get-together. | |
Buffet – Sit, Stand or Sit
The buffet is the quintessential service style to choose when planning a party. It is one of the best ways to entertain any size group, especially a large crowd. It is perfect for any type of food, any time of day and occasion, formal or informal.

Platters, plates and bowls of food are arranged on long tables and guests serve themselves. Guests either eat standing or sit wherever you have space for, such as sofas, chairs or the floor (with pillows, please). With adequate space, you can set up tables for guests to seat themselves and enjoy their meal.
Set-up a Picture Perfect Buffet Table

Place the buffet table as close to the kitchen as possible to reduce your back and forth as you replenish dishes
If you have the room, use separate tables for separate foods such as a meat and seafood table or a desserts only table
Offer one course at a time or bring dishes out in stages - room temperature foods first, cold foods, lastly hot foods
Place utensils, napkins, salt, pepper, condiments and beverages on a separate table or at the end of the buffet table with adequate space for guests to briefly park their filled plates
SAVE MONEY by putting the most expensive course near the end of the buffet table and serve larger amounts of other less expensive foods


Family style
Almost a cross between a seated buffet and sit-down dinner, family style service requires lots of table space. Platters and bowls of food are passed between seated guests who serve themselves.
I love this way of service because it connects everyone at the table. This is a good service style for stews, casseroles, roasted potatoes, sautéed vegetables and tossed salads. Make sure you have serving utensils in each dish and use medium sized dishes that are not heavy and difficult to handle.
Sit-Down Service
The most elegant and intimate of service styles. It is adaptable enough for a special occasion or a "just because" event and is acceptable for breakfast or lunch. Of course, a seated dinner party is everyone's favorite. For easier party menu planning (and less stress) seated meals are more suitable for no more then 10 guests.

While a sit-down dinner takes a bit more preparation and coordination, it allows you the fun of creating eye-catching plated dishes. You will also have more control on portion sizes, so you can stretch that standing rib roast as far as you'd like!
Pre-planning and a make-ahead menu are essential. Plan a menu based on your schedule, cooking comfort level and what's stored in the freezer
Set a stylish table early in the day and start the evening with simple cocktails and appetizers served buffet style.
Salads and bread and butter can be placed on the table ahead of time. Dinner plates are assembled in the kitchen and quickly (and elegantly) served to guests


Combo style
As mentioned above, you can combine service styles to have the best of all worlds. Put appetizers out buffet style or on other tables around the room. Hot or cold soups can also be served as an appetizer in petite cups, along with bread and soup toppings.

This also gives you a little more time for last minute details or to enjoy your guests. Have dinner seated and then serve desserts and coffee buffet style on the deck or patio.

A WORD ABOUT THE POTLUCK
A "potluck" is a kind of free-for-all food extravaganza. It is the best way to party for the host because it decreases your responsibilities and leaves you more time to enjoy the fun. I do think however that a potluck should be structured, just a little bit, if you want to create a complete meal. How many potlucks have you been to where you ate nothing but salad and dessert?
Take the time to devise an informal menu, such as "1 appetizer, 1 green salad, 1 pasta salad, 2 chicken dishes, 1 beef casserole" etc. Don't hesitate to make specific requests of your "guest cooks" at least two weeks ahead of time. Tactfully consider each person's particular cooking abilities plus any time or financial limitations.

Go to Top of Planning a Party