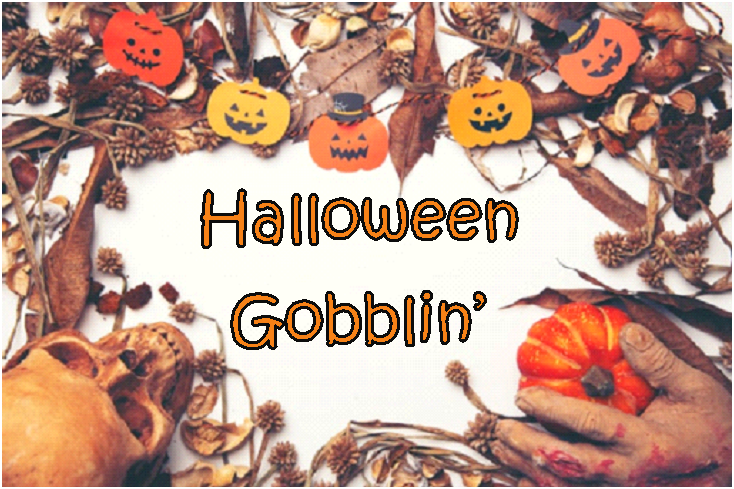 These tasty Halloween Party Menus are delicious whether you're feeding goblins before trick or treating or hosting a late night adult fright feast.



A New Orleans Halloween

Growing up in the Big Easy, Halloween didn't seem out of the ordinary. Ghosts, ghouls and goblins?  Sounds like Mardi Gras!  We bury our dead above ground so they are free to party!!  This menu is great for a Halloween cocktail party.

Cocktails and Other Drinks

Sweet and Savory Popcorn and Nuts
Jazzy Red Bean Dip
Serve with vegetable crudites

Savory Chilled Crab Dip

Natchitoches Meat Pies

Spiced Shrimp Cakes or Shrimp Rolls



This and That Halloween Party Menu
Sweet and Spicy Candied Pecans 
Roast Beef and Horseradish Finger Sandwiches
Egg and Watercress Finger Sandwiches 
Caribbean Chicken and Rice Salad


Smashing Smorgasbord

Seasonal Fruit, Cheese, Vegetable Tray
With Yogurt Dip and Ranch Dressing

Also see Fruit and Cheese Appetizers

Assortment of Crackers, Pita Chips, Crisp Flatbread Crisps
Purchased Miniature Spring or Egg Rolls with Sweet and Sour Sauce
Chicken Satay With Peanut Sauce
Or Purchased Chili Sauce

Beef and Coconut Satay
Serve with Soy Ginger Dipping Sauce
Spicy Halloween Buffet for 50

Taco Bean Dip
Serve with tortilla chips, carrot and celery sticks
If desired, serve alongside thinly sliced deli meats like pepperoni or smoked ham, plus small dinner rolls, crackers and condiments

Champs Chili for 50
Serve with guacamole, sour cream, chopped green onions and white or brown rice

Orange Avocado Radish Salad

"Adult" Halloween Candy and Salted Nuts

Sangria, wine, beer, mixed drinks




Happy Halloween Cocktail Party for 25

Basic Dip for Fifty
Serve with potato, pita or bagel chips. This recipe can be easily cut in half

Tapenade
Serve with crisp crackers and cheese cubes

Sweet and Sassy Shrimp Kabobs

Pork Bites with Sweet Apple Chutney

Guacamole for a Crowd

Orange Muffins Smoked Turkey and Cranberry Sauce
Split your favorite orange mini muffins in halve. Place a piece of deli turkey and small dollop of whole cranberry on top. Good additions: Swiss cheese and/or green onions. For this menu, prepare 2 muffins per guest; about 1 pound of sliced turkey and 1 can of cranberry sauce


Halloween Buffet Menu

Bourbon-Glazed Beef Roast
Sweet rolls, thin cucumber slices, sliced green onions, cranberry sauce

Spicy Black Bean, Zucchini and Corn Salad

Cheesy Corn Muffins

Roasted Tomato Chili Salsa

Layered Salad

Tequila-Flamed Mangos


Happy Halloween Party Menu
This one's uncomplicated and perfect for a low-key or impromptu gathering

Apple Sangria

Any Easy Skewer Combination
Try cooked chicken sausage, roasted red pepper, mozzarella cheese ball, basil leaf

Shrimp with Salsa Verde

Mardi Gras Salad
Rock the purple, green and gold

Sweet Yogurt Dip
Serve with Graham crackers, rice crackers, celery sticks, fresh pear slices