Luncheon Menus

Lunch is a meal served mid-day. That's great because you won't have to get out of bed too early to start cooking and, you'll be out of the kitchen by late afternoon…ready to unwind.
Don't discount a lunchtime party because it may seem too low key or not festive enough. Rev things up with an interactive buffet menu, cheerful decorations and soft but lively music.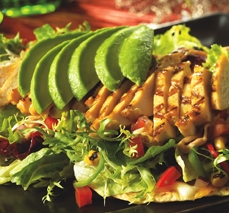 The time to consider a luncheon menu is for baby showers, birthday celebrations, anniversary parties, bridal showers, business meetings, farewell parties or neighborhood open houses
These luncheon menus also serve well for brunch. Preview brunch menus and think about mixing and matching dishes from those menus with the luncheon menu dishes.

With a few changes in presentation you can also use these menus for an informal dinner party.

Recipes, helpful hints and make ahead advice are all included
---

Luncheon Menus

These menus are excellent for afternoon or early evening parties. Life is made easier by purchasing desserts from your favorite bakery or market.
Happy Lunch
This hearty menu will also serve well for a dinner buffet. Also consider Broccoli Salad or Strawberry Spinach Salad for the Pea Salad

Italian Tomato Bruschetta

Baked Spaghetti with Ham and Herbs

Ambrosia

Wine and Herb Marinated Chicken Breast
over Fresh Salad Greens

Soft Breadsticks

Pea Salad with Bacon and Parmesan Cheese

Luscious Lemon Tart with Almond Crust

Coffee, Tea, Sparkling Water
Elegant Baby Shower Menu
This makes an elegant yet playful baby shower menu. Note the "baby" foods. Serve in the early afternoon with mint tea, lemonade, fruit smoothies or cold fruit juices. Shrimp Salad Sandwiches or Shrimp Salad Louis would also be delicious


Baby Portobello Stuffed Mushrooms
Mini Crab Cakes with Mango Salsa
Assorted Crispy Crackers
Broiled Baby Lamb Chops with Tomato Oregano and Cumin Vinaigrette
Baby Baked Potatoes with Herbs and Butter
Tender Baby Vegetable Salad Platter with
Curried Chicken Salad on Mini Croissants
Petit Fours Mini Cupcakes Lemon Mousse
Flavorful Menu
This also makes a lovely baby shower menu as well as a flavor- packed birthday party menu

Mini Soft Bread Sticks or Corn Sticks
Spicy Chicken Satay with Ginger Peanut Sauce
Mediterranean Finger Sandwiches
Orange and Grape Salad

Petit Fours Orange Sherbet Ice Cream