Christmas Menus
Eat, Drink and Be Merry!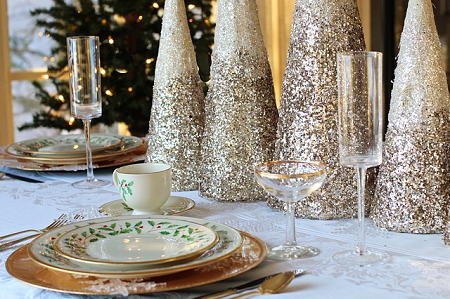 Christmas Menu Planning Tips
¤ Plan the menu well in advance or simply use Chef-Menus as your guide
¤ Resist the temptation to repeat the traditional Thanksgiving menu. Your Christmas menu does not HAVE to include turkey, stuffing and yams!

¤ If using recipes, review them thoroughly as you prepare your shopping list

¤ If you really have no time, plan a menu that consists of dishes that can be made 3-4 days ahead and safely stored or frozen. Don't feel guilty about that!
¤ Decide which items can be purchased well in advance and either safely stored or frozen. Leave fresh items for last and purchase a day or two before the event
¤ Try to plan for everything to be done at least one hour before you wish to serve (good luck with that!). That way you can change into your party clothes, sip a cocktail and enjoy your guests!


Christmas Menus


Happy Holidays Menu 
This special holiday menu is reminiscent of an Italian multicourse meal. Our version is designed to be easy on the cook and can be adjusted to fit any budget or cusine.

The key is to plan small portions of each course.  Guests can socialize and have another glass of wine between courses. Who's going to complain?  Dishes can be individually plated or served family style.


Drinks and Appetizers
Appetizers can be easy and light. Check out these appetizer ideas and combinations


First Course
Easy Oven Parmesan Risotto
If desired, serve with Garlic Shrimp or a Butter Basted Lobster Tail


Second Course
Slow Roasted Striped Bass with Tomatoes and Olive Vinaigrette

Roasted Peppers with Olive Oil and Basil

Third Course
Make Ahead Ribeye Steaks with Red Wine Butter Sauce

Make Ahead Mashed Potato Casserole


Salad Course
Your Way Fruit and Greens Salad with Honey Lime Dressing

Dessert
Tiramisu
Coffee
After Dinner Drinks
Special Christmas Dinner

A Christmas rib roast is perfect for holiday celebration.  The meat is of course accompanied by potatoes and vegetables.  Serve with one or both of the sauces.
Rib Roast Beef with Horseradish Cream Sauce
or
Garlic Red Wine Vinaigrette
Rich Garlic Mashed Potatoes or Potatoes Au Gratin

Lemony Spinach with Garlic and Hot Pepper Flakes
Easy Elegance Christmas Menu

Lots of style and flavor here but not a lot of work

Raw Vegetables On Ice with Herb Dipping Sauce
Too easy: Get veggies from your favorite salad bar
Asian-Style Cold Lobster Salad
You only need 1 large lobster tail for this salad
Balsamic-Honey Glazed Lamb Chops with Pears
Oven Roasted Sweet Peppers with Citrus Vinaigrette

Big Flavor-Full Family Dinner
Marinated Cheese Appetizers
Serve with crackers or crispy flatbread

Easy Ambrosia

Orange Roasted Brisket

Rich Garlic Mashed Potatoes
Green Beans with Mustard and Mushrooms

Cranberry Salad
Prepare your favorite green salad. Add dried cranberries, pecans and blue cheese

Spiced Coconut Cake

Gingerbread Cookies and Ice Cream


Seafood Family Christmas
A favorite tradition that's extra special tasty.  Terrific menu for a small intimate gathering.  Lots of appetizers makes things so festive.  Serve an additional protein for non-seafood lovers


Sweet and Spicy Candied Pecans

Spicy Hot Crab Dip

Tapenade
Serve with crispy pita chips

Cheese and Bacon Stuffed Mushrooms
 
Easy Baked Citrus Chicken

Dijon and Herb Roasted Salmon

Shrimp In Champagne Sauce
Serve with Angel Hair Pasta

Roasted Asparagus with Orange Vinaigrette  

Favorite Green Salad
Add dried cranberries, mandarin oranges and toasted walnuts

Bourbon Chocolate Cake
or
Chocolate Toffee Trifle



Please Come Home for Christmas Menu
Growing up in New Orleans, this menu was a holiday family favorite. Yes, we loved our desserts! Leftover ham was used for delicious Po'Boys the next day
Green Salad with Sliced Tomatoes and Olives
Christmas Brunch
This brunch is light enough not to "spoil your dinner". There are no recipe links for this easy menu

Hot Cocoa with Marshmallows

English Muffins and Cranberry Cream Cheese
Mix whipped cream cheese with dried cranberries, a pinch of sugar and dash vanilla

Ruby Red Grapefruit Halves
Sprinkle with powdered sugar and put a cherry on top

Sauteed Turkey Sausages and Boiled Eggs
Top egg halves with a dollop of sour cream or mayo mixed with chives

Juices and Mineral Water



Easy Classic Christmas
All our favorite holiday flavors. Make the brisket up to 2 days ahead and purchase the soup and bread.
Ham and Dijon Butter Canapes

Butternut Squash Soup

Cranberry Nut Bread
Family Favorite Brisket
Serve with Sweet Apple Chutney

Rich Garlic Mashed Potatoes or Potatoes AuGratin

Favorite Vegetables

Banana's Foster Crisp
Easy Chocolate Cake with Berries and Cream

New Traditions


Hot Cider - Wine - Mixed Drinks

Olives, roasted peppers, other antipasto-type veggies

Spicy Hot Crab Dip
Serve with an assortment of crisp crackers or vegetables

Herb-Rubbed Turkey with Roasted-Garlic Gravy

Pea and Mushroom Rice Pilaf

Sweet Potato Souffle

Roasted Asparagus with Orange Vinaigrette

Rolls - Butter