New Year's Eve Party Ideas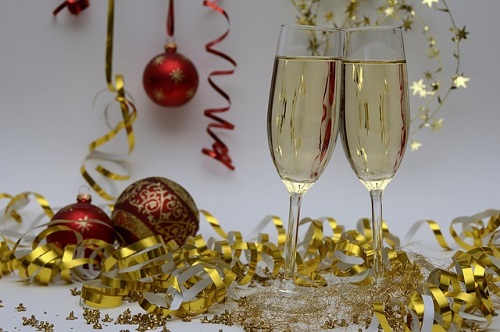 Celebrate!! 

NEW YEAR'S EVE is my favorite time to celebrate. It is all about friends, family, parties, champagne and reflecting on the past while looking forward to the future with hopeful anticipation.

A New Year's Eve party is definitely not the party to toil away in the kitchen while your guests enjoy themselves--without you.


Quick and Easy New Year's Eve Party Ideas
Add a purchased dessert such as brownies, cookies or bowls of wrapped chocolate candy. Find these recipes and more menu ideas in easy appetizers, finger sandwiches, canapes and skewer appetizers.
---

Homemade Potato Chips
Pan Fried Onion Dip
Bourbon Glazed Roast Beef
Crackers, Rolls; Mayo and Horseradish sauces; pickles, hot/sweet peppers, etc
Lemony Green Bean and Tomato Salad
Chocolate Truffles
Wine and Champagne




Spinach Dip
Pork or Beef Tenderloin
Sliced and served with garnishes
Green Bean and Olive Pasta Salad


Sesame Garlic Dip
Cold Shrimp Platter
Prepare or purchase
Chicken Chili Quesadillas
Purchase mini desserts platter


Marinated Olives
Spicy Nuts
Tomato Bruschetta
Mango Salsa
Shrimp Kebabs


Fruit and Cheese Board
Purchased Sushi Platter
Finger Sandwiches
Green Salad
Sesame Ginger Dressing




Bacon and Sour Cream Dip w/grilled pita chips
Deviled Eggs
Buffalo Wings
Appetizer Salad


Ham Canapes
Onion Pizza
Fried Chicken Wings
Green Salad


Raw Vegetable Crudités
Crab Salad Lettuce Wraps
Shrimp Salad
Crackers, Flatbread Chips
Chicken Quesadillas


Popcorn Shrimp
Muffalettas
Mardi Gras Salad
Green Grapes, Blackberries, Strawberries
Ginger Snap Cookies



Rum and Pineapple Glazed Ham
Creole Gumbo
Best Potato Salad
Tomato and Avocado Slices
Bananas Foster and Ice Cream
Wine and Champagne


Mixed Nuts
Mixed Olives
High Quality Cheeses
Tropical Fruits
Dried Fruits
Wines and Champagne


Salsa and Chips
Favorite Chili
Cornbread and Honey Butter
Coleslaw or Fruit Salad


Fresh Fruit Platter with Dip
Fresh Salsa and Tortilla Chips
Pork Quesadillas
Green Salad


Spicy Hot Crab Dip
Baked Artichoke Dip
Assorted Breads and Crackers


Quick Hints
Set-up an

appetizer bar

. This is a good way to stay out of the kitchen
Prep the various ingredients ahead of time and serve at room temperature


Arrange the

buffet table

and let it do the work for you. All you do is refill empty platters


When choosing your New Year's Eve menu, choose spicy, salty foods - these go especially well with sweet or tart drinks
More ideas for hosting a New Year's Eve bash

Special Drink Ideas
New Year's Eve is the time to prepare special drinks, with special glasses and pretty garnishes.

TIPS:
◦ Use colored sugar or salt on the rims of glasses by adding a few drops of food coloring to sugar or salt

◦ Use superfine or castor sugar for the rims

◦ Rim glasses with finely crushed hard, fruit-flavored candy such as Jolly Ranchers, Life Savers, peppermints or flavored mints. Use a food processor or smash with a mallet in a plastic bag.

◦ To rim glasses with candy, sugar or salt: Place ingredient in a large flat plate. Moisten the glass with lemon, lime, orange juice or water. Allow to dry briefly.

◦ Put whole or crushed candy in the bottom of the drink - not too much, you don't want to change the taste of the drink

◦ Use sugar cubes, pineapple, kiwi cubes, dried or fresh cranberries and, dried apricots as change-of-pace drink garnishes

◦ Find inexpensive ice cube molds, swivel sticks and party umbrellas at your local dollar store



BEST DRINK CHOICES
Check out these and other flavorful drink recipes

◦Martinis by the Pitcher
◦Easy Make Ahead Frozen Margaritas
◦Creamsicles or Dreamsicles
◦Sparkling Wine Cocktails
◦Holiday Eggnog or Easy-Does-It 'Nog
◦Hot Cider for a Crowd