Outdoor Party Menus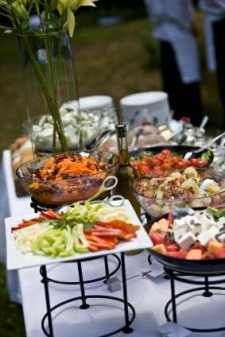 Outdoor party menus....think laid back, weekend relaxation, no commute, no job! We all love outdoor parties, barbecues, picnics and family cookouts. Most grill masters have a long list of their favorite barbecue recipes for ribs, chicken and burgers.
Treat yourself and the gang to special drinks, summer salads and grilled meats, seafood and vegetables. Open your imagination to something a little different on the grill.
You will definitely see smiles and hear accolades when you serve a sizzling backyard BBQ menu like Down Home Elegant with trout wrapped in prosciutto and fiery T-bone steaks.
| | |
| --- | --- |
| Watch your guests' mouths water when you host a Luau Party and serve honey grilled shrimp and grilled bananas and pineapple. Or plan a Simply Stylish menu and serve savory and sweet Island Chicken and grilled asparagus. | |
If burgers are your thing, host a Burger Bash and serve juicy sliders, nutty veggie burgers and fragrant salmon burgers all on the same menu.
And don't forget the classic tailgate party! Watch the fans cheer for onion smothered brisket sub sandwiches and lamb skewers with a mustard dipping sauce.

These backyard BBQ menus are designed for entertaining when the day is filled with warm breezes and blue skies.
The time to consider an outdoor party menu is for: baby showers, birthday celebrations, wedding receptions, anniversary parties and bridal showers.

Many of these menu items can also be broiled or pan-roasted instead of grilled. So if the weather doesn't cooperate or you don't have outdoor space, you can still enjoy your party feast indoors. These dishes will also work well on any outdoor or indoor buffet
Go to party planning for more information and tips. Then come back here to sample our collection of tasty cookout menus for your next outdoor party.
Recipes, helpful hints and make ahead advice are all included